Don't wait any longer, put on your best shoes and join us along the pilgrimage routes of Ehime prefecture. Situated in Southern Japan on Shikoku Island, 1h25 flight from Tokyo or 7 hours by train… even 1 month by foot for the bravest! Spiritual journey to awaken all your senses.
Ehime Prefecture (愛媛県) has for chief town Matsuyama which is best known for its castle and Dogo Onsen Honkan, one of the oldest hot springs in Japan treasured by the emperor (who went there until 1952) and whose well-preserved structure is this city' s symbol. A Premium edition of the magazine will introduce you to this city, but first we'll take you on a journey across the Prefecture's paths, discovering its cultural specificities and satisfying your craving for grandiose landscapes!
While waiting for the magazine's Premium version, get our free "light" edition on Ehime prefecture, now ready for download!
The magazine is available in PDF format, you will benefit from a 6-month update and 6 downloads.
In this 46-page "light" issue you will find articles on :
– Niihama Taiko Festival
– Ohenro Pilgrimage
– Ehime on a bike
– LaFishing between forest & sea
– How to get to Ehime
The whole sprinkled with beautiful pictures taken by our photo reporters, which hopefully will give you the desire to discover the Prefecture off the beaten track
Download the magazine on the dedicated page: GOKAN Magazine, Ehime digital format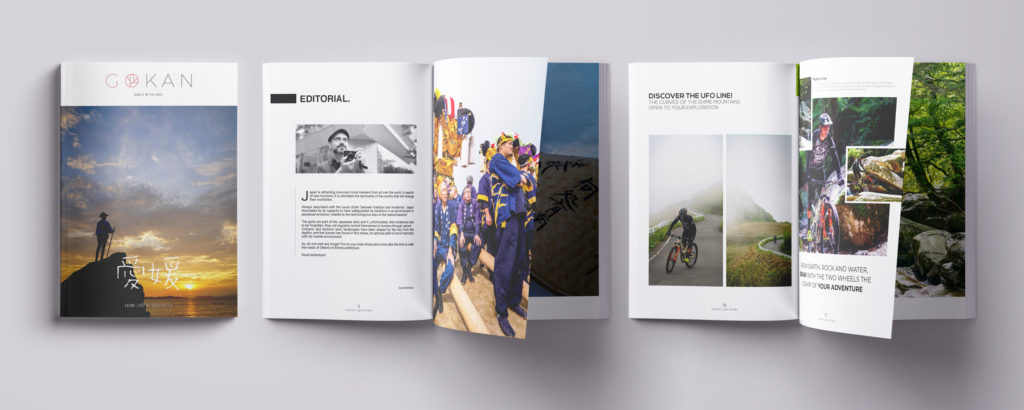 Want to further your 5 senses experience?  
Soon you will be able to get your Ehime special Gokan Box, with local products carefully selected by our culinary specialist Mikiko KUROKI ( Recipe cards are also included)! Take part in the crowdfunding campaign on this page: GOKAN Ehime Box